Angel Falls Day Tour - Canaima National Park Tours
Canaima National Park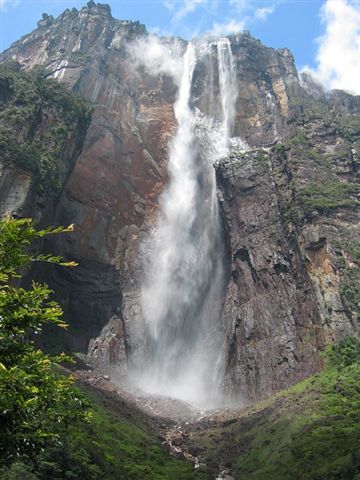 Canaima National Park, a jungle and water paradise, has everything for photographers, nature's lovers, adventurers and unforgettable emotions for the blink of a discovery eye. A "natural wonder on our planet" located in the south-east of Venezuela, south of the Orinoco River in an area of 7,5 Million acres and is the 3th largest in the world.
This excursion is highly recommended, preferable during the rainy season (July - December); starting January you will have less water in the falls, turning it to be a drip by March. In May, the rain starts falling again.
Flying above Angel's Fall (CANAIMA) will bring your thoughts as if you were in "The Lost World" of British author Arthur Conan Doyle (1912).
Angel's Fall at Auyantepuy (tabletopmountain) is the tallest waterfall of the world (3.212 ft.) and also not to far, but difficult to reach, stands Kukenan waterfall (1900 ft), fourth highest free fall cascade in the world.
Today, we have a few camps where to spend the day (Kavak, Uruyen, and Canaima). I chose Canaima due to the wonderful waterfalls in the area, standing out "El Sapo". Here you will "walk" underneath the falls.
Excursion to The base of Angel Falls
This is another excursion, lasting three days / two nights. The route to follow is: Canaima Lagoon - Carrao River - Churun River - Churun Canyon - Angel's Falls. Camping on route is usually on Isla Orquidea (Raton) or at the base of the fall.
Contact us for pricing information.
Schedule:
We fly from Margarita to Canaima Camp (2 hr.), overflying the Auyantepuy, Churun Canyon and Angel's Falls. Occasionally the area is overclouded; if so the captain will give it another shot during the afternoon. After landing, you will enjoy a boat ride, along Canaima's Lagoon. At the other end, you will hike about 1.5 miles - easy at the beginning, rough as you reach the end of the trail; but the prize is just waiting for you... El Sapo waterfall!!! - optional swimming. Return to the camp, lunch, indian art & craft shopping. Back to Margarita Island - arrival aprox. 5:30 pm. An english speaking guide will go along all the way. (You need to be in good physical health to hike)
What to bring & wear:
A copy of the front page of your passport, cameras, video-recorder,shorts and t-shirt, swim suit & towel, tennis shoes (which willget wet) sandals, (for dry feet while you fly back) and sunblock.
Summary:
Daytrip from Margarita Island Hotel pick-up around 06:00 am - flight departure 07:30 am ( 55 min.)
Regular Price:

$355 US PP

plus

$25 US tax pp

Walter's Tours Online Price:
Adults -

US $325 pp

plus

$25

tax pp
Children up to 10 years old -

US $275 pp

plus

$25

tax pp
All prices are subject to be change.
The Auyantepuy ( Mountain of Hell )
- Largest tabletop-mountain or tepuy. (top surface 270 sq. miles / 700 sq. km)
- The south edge is 7.784 ft / 2.400 m, the north edge is 5.250 ft. / 1.600 m high.
- The main atraction here is Angel's Falls, with a straight free water drop of 3.212 ft. / 979 m.

Jimmy Angel
- James (Jimmy) Crawford Angel was born in Springfield, Missouri in 1899.
- a pioneer of aviation and explorer of "The Lost World".
- a companion of Lawrence of Arabia and Charles Lindbergh. f

He made several flights towards the Auyantepuy, searching for gold and during 1935, discovered accidentaly Salto Parekupa-Meru (indian name), today known as Angel's Falls. The National Geographic Society undertook an expedition to measure the falls and in their edition of November 1949, the magazine confirmed that the so-called "Angel's Falls", was the highest free drop of water or tallest waterfall in the world. Jimmy died in Panama a few days after, in an air crash accident. He had left instructions that his body be cremated and his ashes be scattered over the falls, that bears his name. His desire was fulfilled.