Angel Falls Base Tour - Walter's Tours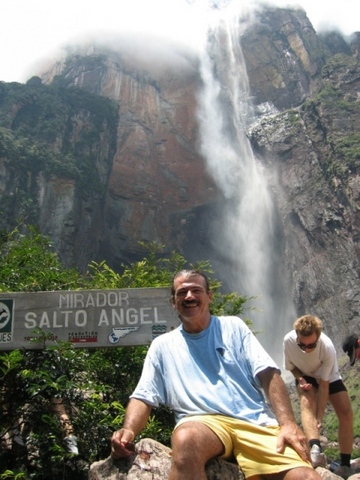 Margarita Island to Canaima to Angel Falls
Three days / two nights trip to the Base of Angel Falls. July – October (rainy season)
1st Day
We start by picking you up at the hotel in Margarita around 6 AM to depart from MI's Airport to Canaima Camp, over flying Angel's Falls.
At the camp we take a short break, then lunch and after we start our route by boat ride (dugout) along the Carrao River. Tabletop mountains such as "El Venado" are at sight. At some points we will find low rapids for which walk aside for a short while might apply.
After a couple of hours we reach Isla La Orquidea. Here we have dinner and spend the night (in Hammocks). (just us in the jungle)
2nd Day
After breakfast we continue our boat ride short after reaching the Churun River. Now the Largest from all tabletop mountains (Auyantepuy) is visible as we drive into the Devil's Canyon, to Isla Raton. From here we take a hike (about an hour) through the jungle until we reach AF's Base. There is a side hill were photos can be made and after we go for a "dip" into a natural pool. (made by the running waters of AF digging a hole into the rock for over 400 million years). Back to our Canaima Camp were we will have dinner, and spend the second night in a suitable room with bathroom.
3rd Day
After breakfast we start a short trip to the immediate Water Falls near our camp. Be ready to walk under the waterfall !!! and then swim!!!
We will visit El Sapo, El Hacha and other waterfalls.... a highlight.!
After returning to the camp we prepare our leave; we have lunch and we visit the Indian craft shop before departing around 3PM to Margarita Island - arrival about 5:30PM Back to your hotel.
During this trip you will have a guide in English, other languages available.
Walter's Tours Price per person: US$ 870 + US$ 25 tax
This is a once in a lifetime experience, which will give us the opportunity to live nature as it used to be at the beginning of the creation.
This is the place which inspired Alexander von Humboldt and from his works Sir Arthur Connan Doyle wrote in 1927 his best seller "The Lost World".
Here the stage of Nature remains as wild as it can be...