Margarita Island Travel Guide
Bienvenido! Welcome to the ultimate Margarita Island travel guide for tours, information and resources for this caribbean destination. This site has been set up to provide a variety of information to those interested in visiting our island paradise or who are just interested in learning more about our home.
Margarita Island, Venezuela Vacation
Margarita Island (PMV) is a place with many beautiful beaches some of which are secluded and pristine. Accomodations on Margarita Island include hotels (some all-inclusive), posadas, condos, apartments and houses. There are a variety of tours available to visitors including a day trip on a catamaran to the neighbouring island of Isla Coche and the popular Jeep Safari Tour. Other tours include Round the Island excursions, Shopping and snorkelling at Los Frailles. For the real adventurous there are trips off the island to Los Roques, Orinoco Delta or to the highest waterfalls in the world, the spectacular Angel Falls.
A message from Walter of Walter's Tours - Margarita Island, Venezuela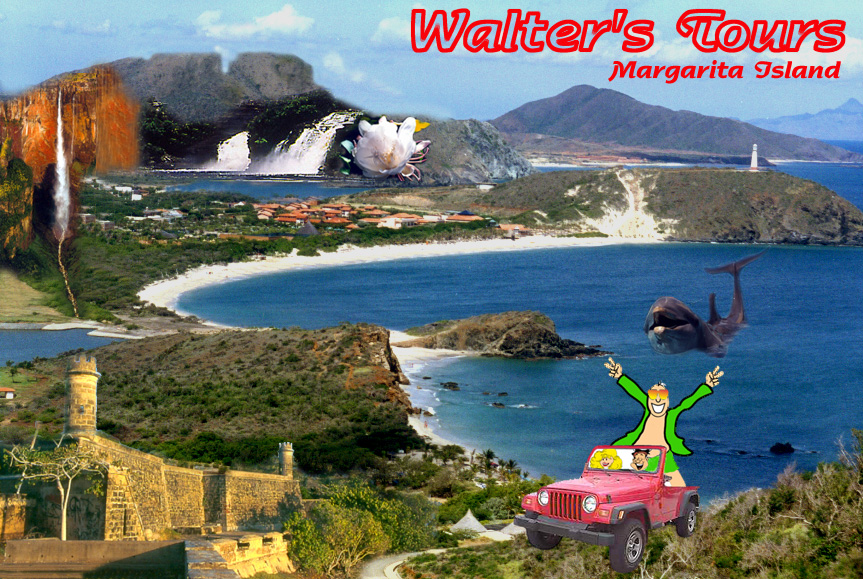 Click here for a larger view.
Today, we have the possibility to search for faster, better, and more inexpensive services than ever before. Whether to choose a travel agent or travel on the Web is the question. If we could only have an expert on the Web, with whom we could "Talk" about our ideas on Margarita Island....... I find that the figure of the Travel Consultant on the Web is needed. Through Instant Messenger / Internet Calls we can arrange a CHAT or a PHONE CALL - send me an Email and we will set it up.
Sometimes we have to fly over Caracas to reach Margarita; it is extremely important to get acquainted with travel tips. Please visit in this site section TRANSPORTATION.
The island enchants travelers upon arrival : ..... what a delightful weather! Look, there are mountains! ...and valleys! The truth is that you usually know little about Margarita Island and frankly this island has alot of potential to offer our guests. We have not advertised enough this island and though many timeshare vacationers have visited it. We are sort of a new touristic destination. In order to find us in a map, although we are surrounded by the Caribbean Sea, you have to look under : South America - Venezuela - Margarita Island.
RCI and INTERVAL INTERNATIONAL have sent many Timeshare Vacationers over the last few years.
The Holland America and Princess Cruise Lines are including us now in their winter schedule. This is our eight consecutive year. I will have the privilege to serve on most of them upon arrival. Here are some of the cruise ships expected:
Sun Princess - Volendam - Dawn Princess - Astor - Columbus - Europa - Sunbird - Noordam - Galaxy - Saga Rose - Silver Whisper - Mona Lisa - Arion - Berlin
When you come to visit us for some time, as a TIMESHARE guest, through a PACKAGE DEAL or on YOUR OWN, it is very important that you have a reliable Tour Operator to assist you before and while you find yourself in a country with different "service patterns", language or ideosincracy. Also it's much more fun and handy to have someone close, who can tell you all about our past and present living styles.
Your Tour Guide for Margarita Island and Venezuela
Margarita is not a small island. There are a variety of accomadations available to short term and long term visitors. During your stay there are many things to do and places to visit. There are also many wonderful beaches to explore all around the island.Are you wondering about where to stay or looking for things to do. Are you interested in what tours are available? My site will help you.
Always aiming towards a better service and faithful to my belief in the vast potential of MargaritaIsland, I have created this web site to ...
offer an independent source of information
offer personal rating services for hotels, etc
offer personalized itineraries and attention
About Walter of Walter's Tours
I was born in Stockholm, Sweden. My father was a Viking while mother is a Venezuelan. As a baby I was brought and raised in Caracas, Venezuela; and I was send to Spain, USA, and Germany for my studies. I have spend my vacations in Margarita Island for many years, until I deceided to settle down here back in 1991. During 1994, we had a major economical colapse in the country, when 20 banks went bankrupt within a week ; I had to start from scratch all over again and I chose to go into tourism. Today, I run a touristic service, as a Receptive Tour Operator on Margarita Island.(Licence: VT 2331) Since '94, I have hosted many Timeshare Vacationers, my own clientele and cruise ship passengers.
For assistance contact me, Walter Molander .
My online Business Card contains my picture and contact info. I've included this as a handy reference that you can print and bring with you on your visit.
Kind regards,
Walter Gustav Molander
Senior Tour Guide
Touristic Concilie
Your friend on Margarita Island